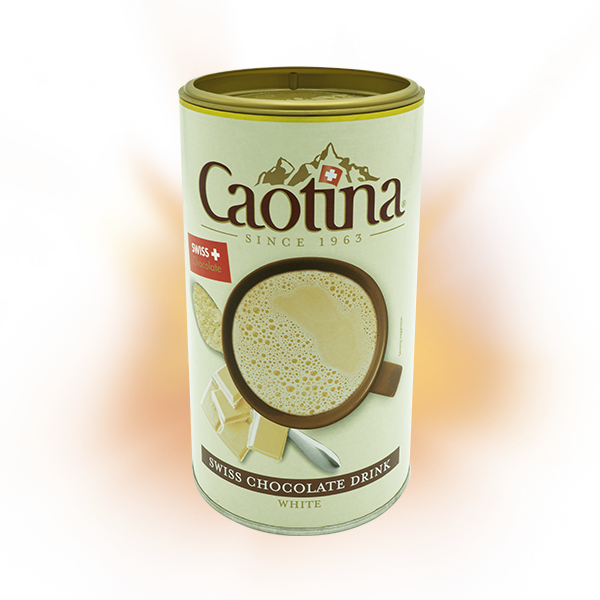 Caotina White 500g
Experience moments of genuine Caotina the white way: Caotina White is the first sippable white chocolate. Best of all, it provides a lift whether enjoyed cold or warm.
What's more: Caotina White is your secret ingredient to create versatile, delicious desserts. Discover more now!
Ingredients
Glucose syrup, sugar, 17% white chocolate (sugar, cocoa butter, whole milk powder, skimmed milk powder, emulsifier soy lecithin, flavouring vanillin), salt, thickener xanthan gum, mineral dicalcium phosphate, flavourings, emulsifier soy lecithin, rapeseed oil, colouring beta-carotene.
Allergens
Contains: Milk (including lactose), Soybeans

Nutritional Values
100 g
1 Portion 1)
Amount
Unit
%NRV / VNR *
Amount
Unit
%NRV / VNR *
Energy
415
kcal
162
kcal
Energy
1754
kJ
679
kJ
Fat
7.3
g
4.4
g
of which saturated fatty acids
4.6
g
2.6
g
Carbohydrate
85.0
g
22.7
g
of which sugars
49.5
g
17.4
g
Fibre
3.1
g
0.5
g
Protein
0.8
g
7.0
g
Salt
1.1
g
0.41
g
Calcium
215
mg
27
276
mg
35
Phosphorus
170
mg
24
214
mg
31
* % of daily reference intake (NRV)
1) 15 g Caotina White + 200 ml milk (1.5% fat)
Additional Product Information
Regulated product name
White cocoa drink powder made with Swiss chocolate
Number of servings per package
33
Consumer storage instructions
After opening keep tightly sealed and store in a place away from heat.
Consumer usage instructions
Enjoyable hot or cold.
Preparation instructions
Dissolve 2 to 3 teaspoons of Caotina White in 200ml of hot or cold milk and enjoy.
Country of origin
Switzerland
Distributor name and address
Wander AG, Fabrikstrasse 10, CH-3176 Neuenegg
Manufacturer name and address
Wander AG, Fabrikstrasse 10, CH-3176 Neuenegg