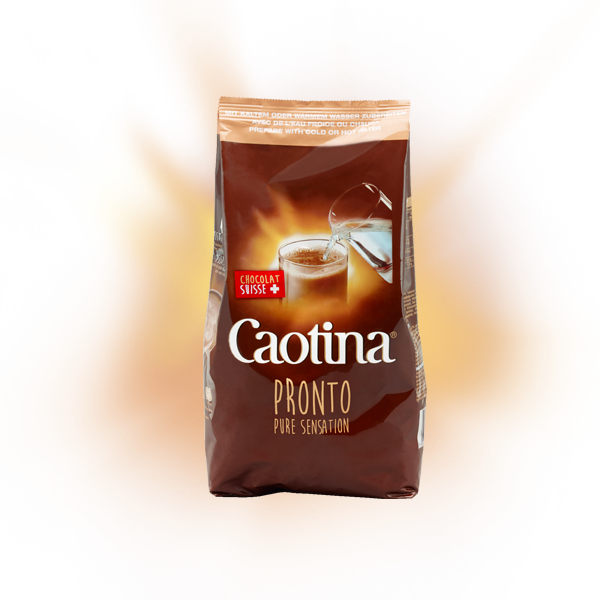 Caotina pronto 1kg
Meet Caotina's practical side. Caotina pronto is a water-soluble cocoa drink that tastes just like the Swiss original with milk. Small wonder: After all, Caotina pronto is made from the finest cocoa. 
Did you know that Caotina is made from sustainably sourced cacao? Discover more.
Ingredients
Sugar, milk serum powder, 11% fat-reduced cocoa powder (with emulsifier soy lecithin), skimmed milk powder, glucose syrup, 2% chocolate powder (sugar, cocoa mass, fat-reduced cocoa powder, flavour vanillin), coconut oil, salt, minerals (dicalcium phosphate, tricalcium phosphate), anti-cacking agent silicon dioxide, coffee-extract, thickener xanthan, stabilizers (potassium phosphates, polyphosphates), flavour vanillin, milk protein, emulsifier E471.
Allergens
Contains: Milk and products thereof (including lactose), Soybeans and products thereof

Nutritional Values
per 100g
| | | | |
| --- | --- | --- | --- |
| Energy | | 384 | kcal |
| Energy | | 1625 | kJ |
| Fat | | 3.7 | g |
| of which saturated fatty acids | | 2.5 | g |
| Carbohydrate | | 80.0 | g |
| of which sugars | | 77.0 | g |
| Fibre | | 4.3 | g |
| Protein | | 5.5 | g |
| Salt Equivalent | | 1.3 | g |
| Calcium | | 300 | mg |
| Phosphorus | | 390 | mg |