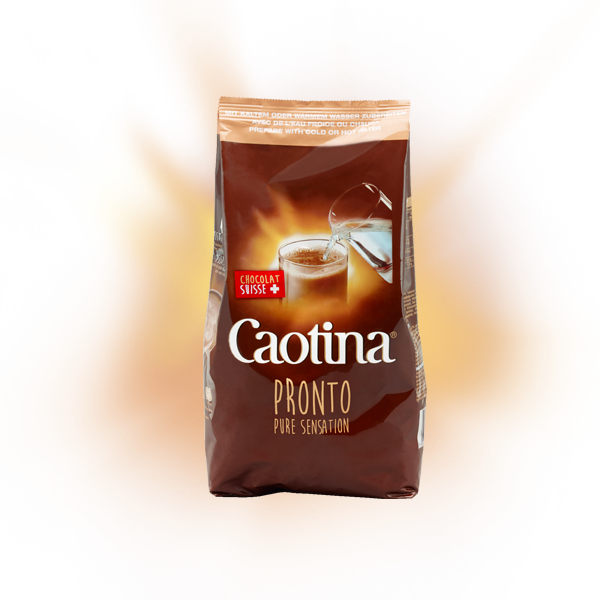 Caotina pronto 1kg
Meet Caotina's practical side. Caotina pronto is a water-soluble cocoa drink that tastes just like the Swiss original with milk. Small wonder: After all, Caotina pronto is made from the finest cocoa. 
Did you know that Caotina is made from sustainably sourced cacao? Discover more.
Ingredients
Sugar, milk serum powder, 11% fat-reduced cocoa powder (with emulsifier soy lecithin), skimmed milk powder, glucose syrup, 2% chocolate powder (sugar, cocoa mass, fat-reduced cocoa powder, flavour vanillin), coconut oil, salt, minerals (dicalcium phosphate, tricalcium phosphate), anti-cacking agent silicon dioxide, coffee-extract, thickener xanthan, stabilizers (potassium phosphates, polyphosphates), flavour vanillin, milk protein, emulsifier E471.
Allergens
Contains: Milk (including lactose), Soybeans

Nutritional Values
100 g
1 Portion 1)
Amount
Unit
%NRV / VNR *
Amount
Unit
%NRV / VNR *
Energy
384
kcal
96
kcal
Energy
1625
kJ
406
kJ
Fat
3.7
g
0.9
g
of which saturated fatty acids
2.5
g
0.6
g
Carbohydrate
80.0
g
20.0
g
of which sugars
77.0
g
19.3
g
Fibre
4.3
g
1.1
g
Protein
5.5
g
1.4
g
Salt
1.3
g
0.3
g
Calcium
300
mg
38
75.0
mg
9
Phosphorus
390
mg
56
97.5
mg
14
* % of daily reference intake (NRV)
1) 25 g Caotina + 180 ml water
Additional Product Information
Regulated product name
Cocoa drink mix with genuine Swiss chocolate
Number of servings per package
38-41 Portionen
Consumer storage instructions
Store Caotina in a well closed jar.
Consumer usage instructions
Enjoyable hot or cold.
Preparation instructions
Dissolve 24-26 g Caotina Automaten in 180 ml warm or cold water.
Country of origin
Switzerland
Distributor name and address
Wander AG, Fabrikstrasse 10, CH-3176 Neuenegg
Manufacturer name and address
Wander AG, Fabrikstrasse 10, CH-3176 Neuenegg