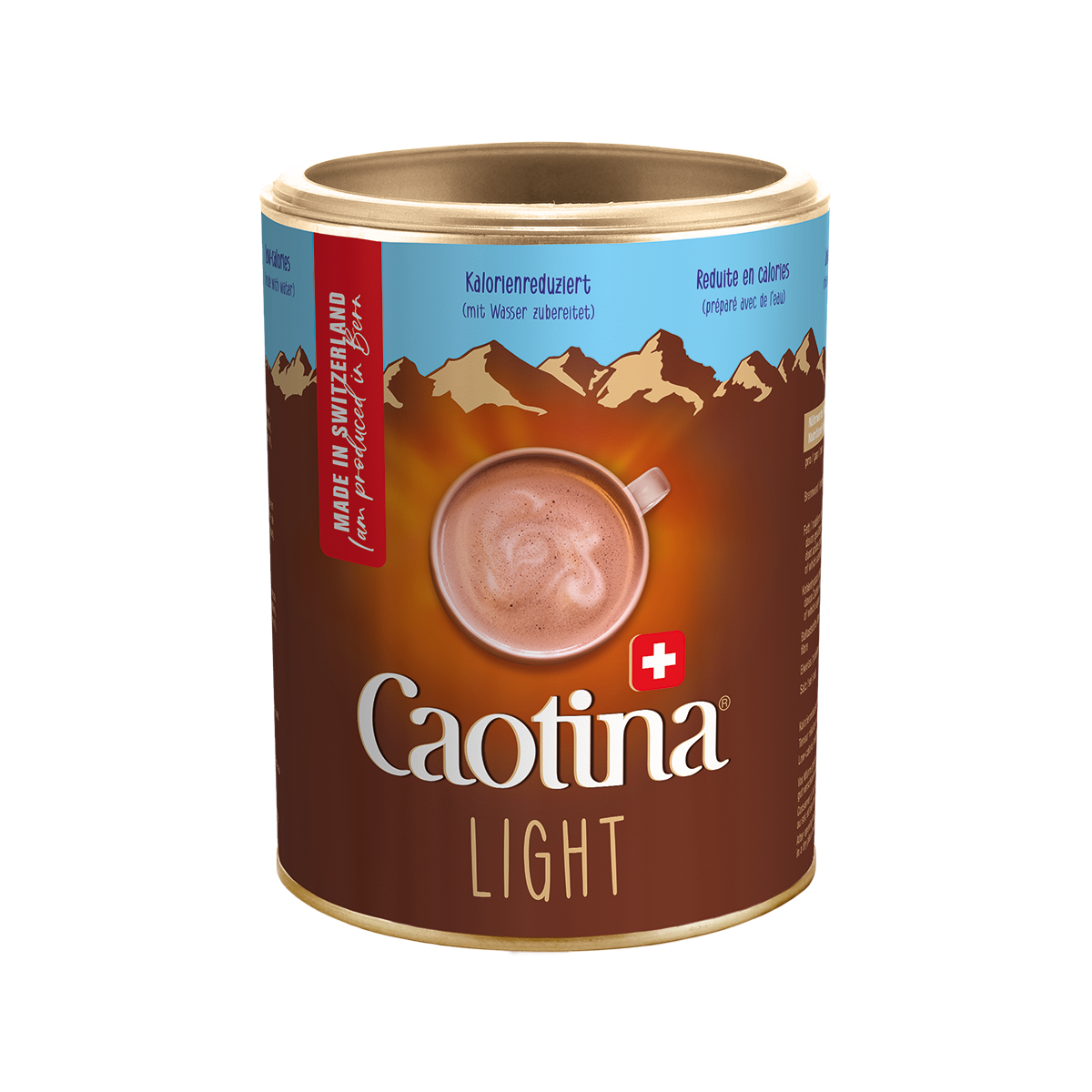 Caotina Light 350 g
Caotina Light is the ideal chocolate pleasure for diabetics: It's a cocoa drink with fructose and sweeteners for carefree moments of indulgence. Caotina Light allows sugar-sensitive and figure-conscious cocoa fans to enjoy the great taste of a real Caotina cocoa drink with a unique taste. The only difference is that sugar is substituted by fructose, aspartame and acesulfame K. 
By the way, in spite of having fewer calories, Caotina Light tastes great served warm or in cold milk.
Ingredients
Zutaten: Fruktose, fettarmes Kakaopulver 42% (fettarmes Kakaopulver¹, Emulgator (Sonnenblumenlecithin)), Milchserumpulver, Aroma (Vanillin), Trennmittel (Tricalciumphosphat), Süssungsmittel (Aspartam², Acesulfam K), Speisesalz.
¹Rainforest Alliance-zertifiziert. Mehr Infos: ra.org
²Enthält eine Phenylalaninquelle.
Allergens
Contains: Milch, Milchzucker (Laktose)
Nutritional Values
100 g
1 Portion 1)
Name
Menge
Einheit
Menge
Einheit
Brennwert
374
kcal
28
kcal
Brennwert
1575
kj
117
kj
Fett
5.6
g
0.4
g
davon gesättigte Fettsäuren
2.7
g
0.2
g
Kohlenhydrate
64.6
g
4.8
g
davon Zucker
58.6
g
4.4
g
Ballaststoffe
11.5
g
0.9
g
Eiweiß, Protein
10.7
g
0.8
g
Salz
0.35
g
0.03
g
Additional Product Information
Regulated product name
Kakaohaltiges Getränkepulver mit Fruktose und den Süssungsmitteln Aspartam und Acesulfam K.
Compulsory additive label information
Enthält eine Phenylalaninquelle. Kalorienreduziert (mit Wasser zubereitet).
Number of servings per package
46
Distributor name and address
Wander AG,Fabrikstrasse 10, 3176 Neuenegg, CH
Manufacturer name and address
Wander AG,Fabrikstrasse 10, 3176 Neuenegg, CH