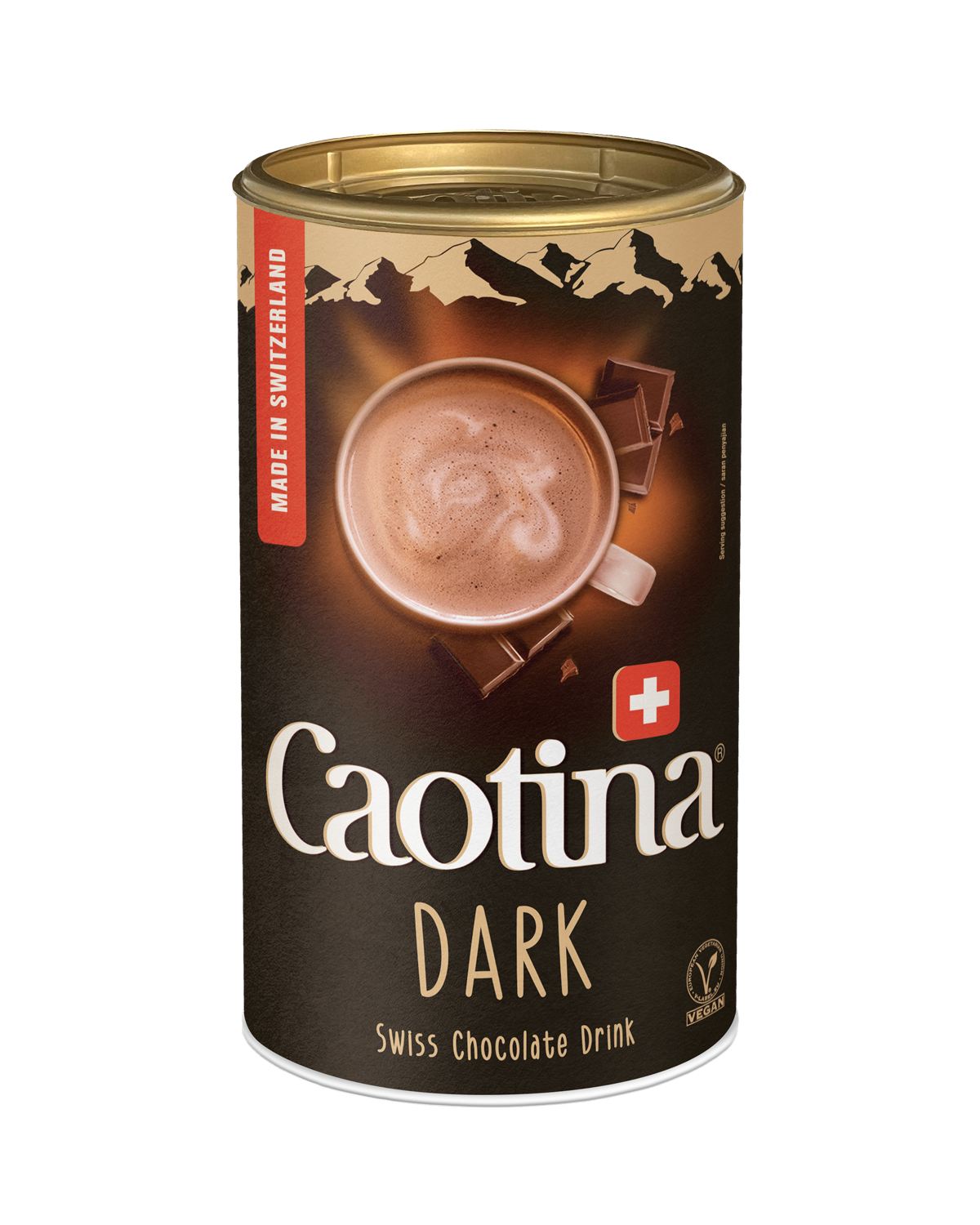 Caotina Dark
Caotina isn't afraid to show off its dark side. Caotina Dark is a unique drinking chocolate made from dark Swiss chocolate and an especially high, 45% share of cocoa. 
By the way, Caotina Dark (in particular) contains plenty of iron: 6.5 mg of iron per 15 g. This high proportion represents 45% of the recommended daily intake (per 100g: 43 mg, 305%).
Ingredients
Zutaten: 45% fettarmer Kakao (mit Emulgator Sojalecithin), Zucker, 7% Schokolade (Zucker, Kakaomasse, fettarmes Kakaopulver, Aroma Vanillin), Traubenzucker, Mineralstoff Dicalciumphosphat, Aroma Vanillin, Vitamine (Thiamin, Riboflavin, Niacin, B6, Folsäure, B12, Pantothensäure).
Kann enthalten: Milch.
Allergens
Contains: Soja

May contain: Milch
Nutritional Values
100 g
1 Portion 1)
Name
Menge
Einheit
%NRV / VNR *
Menge
Einheit
%NRV / VNR *
Brennwert
387
kcal
157
kcal
Brennwert
1628
kj
658
kj
Fett
6.5
g
4.3
g
davon gesättigte Fettsäuren
3.5
g
2.4
g
Kohlenhydrate
64.0
g
19.5
g
davon Zucker
51.1
g
17.6
g
Ballaststoffe
14.0
g
2.1
g
Eiweiß, Protein
11.0
g
8.4
g
Salz
0.01
g
0.36
g
Thiamin
1.1
mg
100
281
mg
35
Riboflavin
1.4
mg
100
267
mg
38
Niacin
16
mg
100
Vitamin B6
1.4
mg
100
Folsäure
200
µg
100
Vitamin B12
2.5
µg
100
Pantothensäure
6.0
mg
100
Eisen
43
mg
307
Additional Product Information
Regulated product name
Zartbitteres kakaohaltiges Getränkepulver mit echter Schweizer Schokolade
Number of servings per package
33
Distributor name and address
Wander AG,Fabrikstrasse 10, 3176 Neuenegg, CH
Manufacturer name and address
Wander AG,Fabrikstrasse 10, 3176 Neuenegg, CH