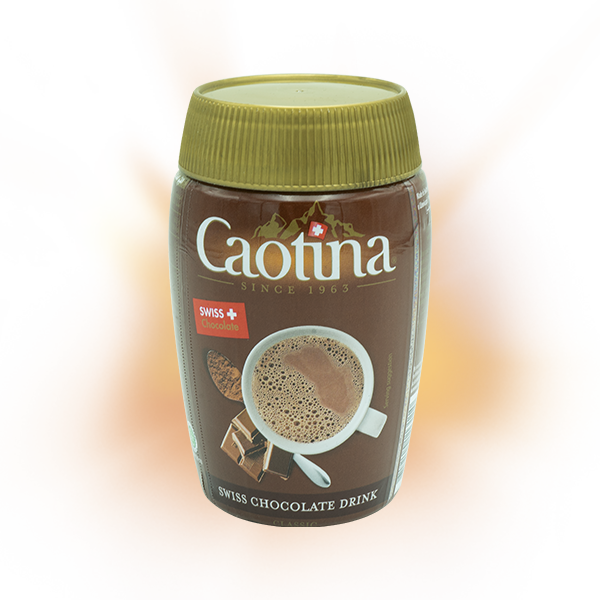 Caotina Classic 200g
Classic Caotina: The distinctive taste of Caotina Classic has proven itself the most popular cocoa drink amongst fans of real Swiss chocolate and very finest cocoa for more than 50 years.
By the way, more than 92% of Swiss are familiar with Caotina - THE sippable Swiss chocolate indulgence. In addition to being savoured on the ski slopes, these days Caotina is also enjoyed in summer as a refreshing beverage. So raise your cup of Caotina high! Cheers!
Ingredients
Sugar, 19% fat-reduced cocoa powder (with emulsifier sunflower lecithin), glucose, 7% chocolate (sugar, cocoa mass, fat-reduced cocoa powder, flavouring vanillin), mineral dicalcium phosphate, flavouring vanillin, salt.
May contain: milk
Chocolate contains cocoa solids 45% minimum.
Allergens
May contain: Milk (including lactose)

Nutritional Values
100 g
1 Portion 1)
Amount
Unit
%NRV / VNR *
Amount
Unit
%NRV / VNR *
Energy
389
kcal
158
kcal
Energy
1645
kJ
662
kJ
Fat
3.5
g
3.8
g
of which saturated fatty acids
2.0
g
2.2
g
Carbohydrate
81.3
g
22.1
g
of which sugars
77.6
g
21.6
g
Fibre
6.0
g
0.9
g
Protein
5.0
g
7.6
g
Salt
0.13
g
0.26
g
Calcium
210
mg
26
276
mg
34
Phosphorus
300
mg
43
233
mg
33
* % of daily reference intake (NRV)
1) 15 g Caotina + 200 ml milk (1.5% fat)
Additional Product Information
Regulated product name
Cocoa drink powder made with Swiss chocolate
Number of servings per package
11
Consumer storage instructions
After opening keep tightly sealed and store in a dry place away from heat.
Consumer usage instructions
Enjoyable hot or cold.
Preparation instructions
Dissolve 2-3 teaspoons of Caotina classic in 200ml of hot or cold milk and enjoy.
Country of origin
Switzerland
Distributor name and address
Wander AG, Fabrikstrasse 10, CH-3176 Neuenegg
Manufacturer name and address
Wander AG, Fabrikstrasse 10, CH-3176 Neuenegg