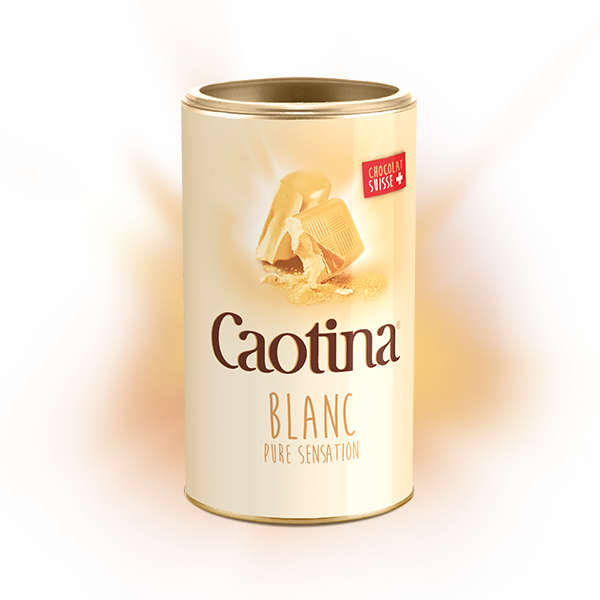 Caotina blanc 500g
Experience moments of genuine Caotina the white way: Caotina blanc is the first sippable white chocolate. Best of all, it provides a lift whether enjoyed cold or warm.
What's more: Caotina blanc is your secret ingredient to create versatile, delicious desserts. Discover more now!
Ingredients
Glucose syrup, sugar, 17% white chocolate (sugar, cocoa butter, whole milk powder, skimmed milk powder, emulsifier soy lecithin, flavour vanillin), thickening agent xanthan gum, salt, mineral dicalcium phosphate, flavours, colouring agent beta-carotene, emulsifier soy lecithin, rapseed oil, vitamins (thiamine, riboflavin, niacin, B6, folic acid, B12, pantothenic acid).
Allergens
Contains: Milk and products thereof (including lactose), Soybeans and products thereof

Nutritional Values
per 100g
| | | | |
| --- | --- | --- | --- |
| Energy | | 416 | kcal |
| Energy | | 1758 | kJ |
| Fat | | 7.5 | g |
| of which saturated fatty acids | | 4.7 | g |
| Carbohydrate | | 84.8 | g |
| of which sugars | | 49.0 | g |
| Fibre | | 3.1 | g |
| Protein | | 0.8 | g |
| Salt Equivalent | | 1.1 | g |
| Thiamine | | 1.1 | mg |
| Riboflavin | | 1.4 | mg |
| Niacin | | 16 | mg |
| Panthotenic acid | | 6.0 | mg |
| Vitamin B6 | | 1.4 | mg |
| Folic acid | | 200 | µg |
| Vitamin B12 | | 2.5 | µg |
| Calcium | | 215 | mg |
| Phosphorus | | 170 | mg |